exquisite india
PHOTOS AND STORY BY ERIC LINDBERG
Images from our photographer's nine-week solo trip around India present a collage of colors, moods and moments.
India fascinates me like no other place. I first visited the country in 1980, when I was 25 years old, and I returned 10 years after that. Both times, India changed me profoundly as I confronted the intensity of the country and my reactions to it.
I always knew I would go back, but life steered me to other destinations. Earlier this year, at the threshold of retirement, I finally returned to see what had changed and to photograph India's exquisite culture.
Within hours of my arrival, it became clear to me that India remains as colorful, confounding and chaotic as I had remembered. Moving from north to central India over nine weeks, I was never bored. Each day brought the sacred and the profane, the ecstatic and the dung-encrusted underbelly, and the purity of the Hindu faith amid the loud, frenzied environment that is modern India.
Making your way around this country of 1.35 billion people can be challenging, but that's part of independent travel in India. And the rewards—those transcendent moments of sweetness, the kind gestures from strangers, tiny banana-leaf boats carrying marigolds and candles downriver, the scent of incense wafting from a temple, an aromatic curry—are worth every inconvenience.
In the end, my most recent visit reassured me that the country remains the grand adventure that I remembered from my youth, and I fell back in love with Mother India.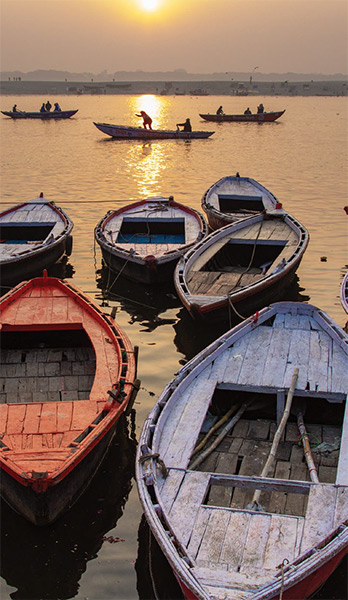 Sunrise along the Ganges River in Varanasi is a busy time as people pray and immerse themselves in the holy river. Taking a boat ride along the river offers panoramic views of the temples and ghats (steps) leading to the water's edge.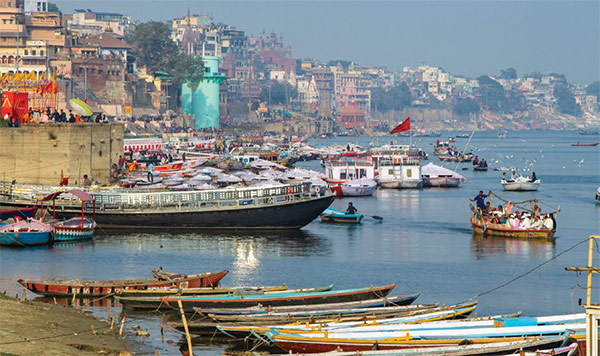 Nestled on the banks of the Ganges River, Varanasi is one of the world's oldest continuously inhabited cities. It's considered the holiest of India's seven sacred cities, and each morning at dawn, hundreds of pilgrims gather for a ritual dip in the river.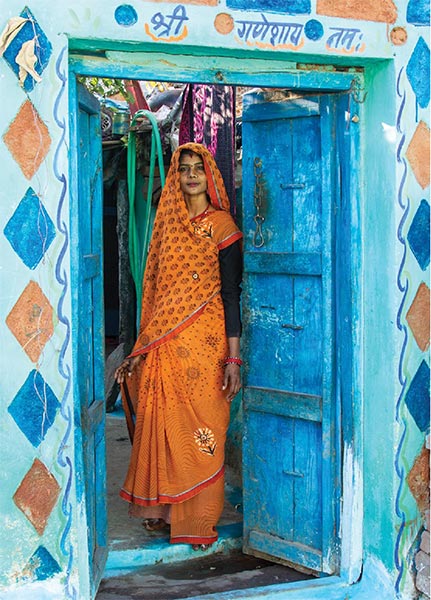 A woman lingers at the doorway to her home in the ancient town of Orchha in central India.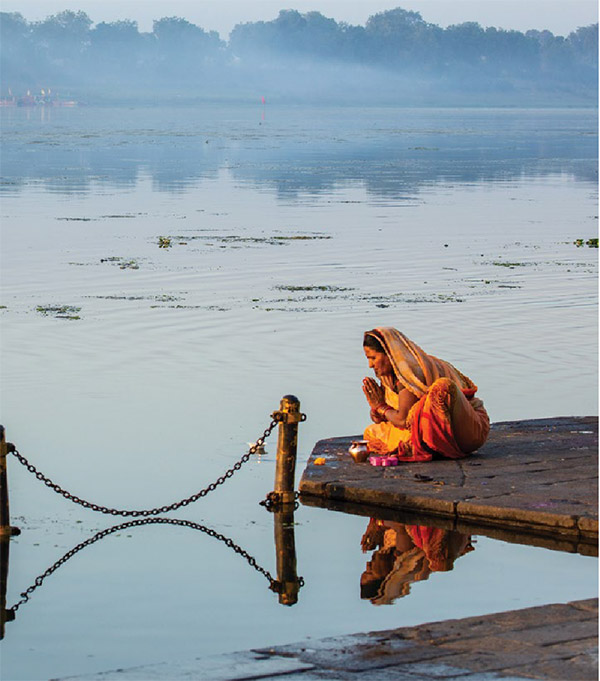 The Narmada River is one of India's seven holy rivers. On the banks of the river, Maheshwar is a small spiritual town dedicated to Lord Shiva and filled with pilgrims, sadhus ( holy persons) and ancient riverside temples.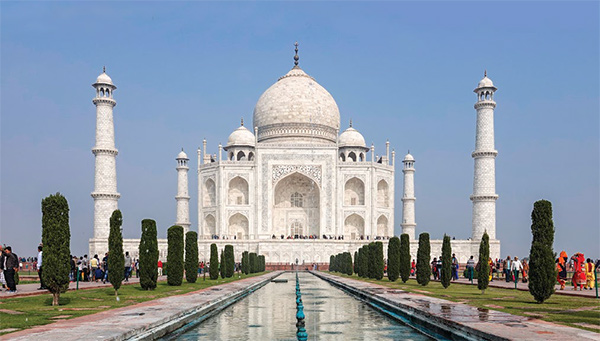 Considered by many to be the most beautiful building in the world, the Taj Mahal in Agra is a jewel of Muslim architecture. This grand mausoleum of white marble was built between 1631 and 1648 by order of the Mughal emperor Shah Jahan to honor his favorite wife.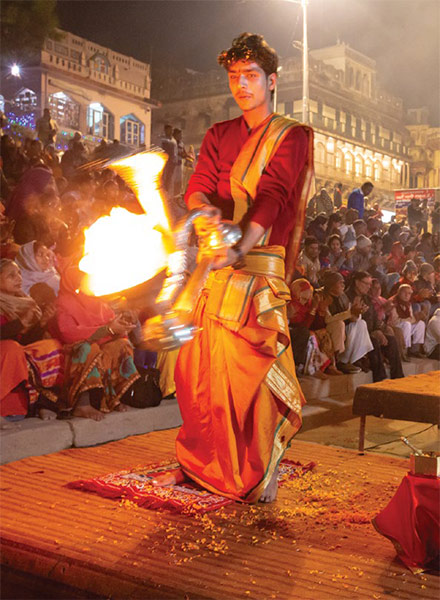 Beginning after sunset, the Ganga Aarti is performed nightly at Assi Ghat in Varanasi. This devotional ritual is offered by Hindu priests to the Goddess Ganga of the Ganges River, India's holiest river. Candles and incense, chanting and singing, and clanging bells blend in this quintessential Indian experience.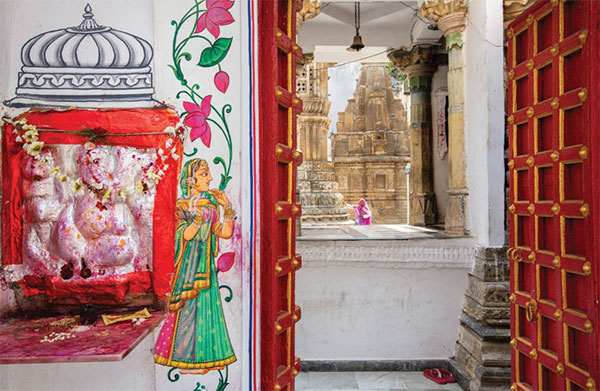 Jagdish Temple in the City Palace complex of Udaipur in Rajasthan has been used for worship continuously since 1651.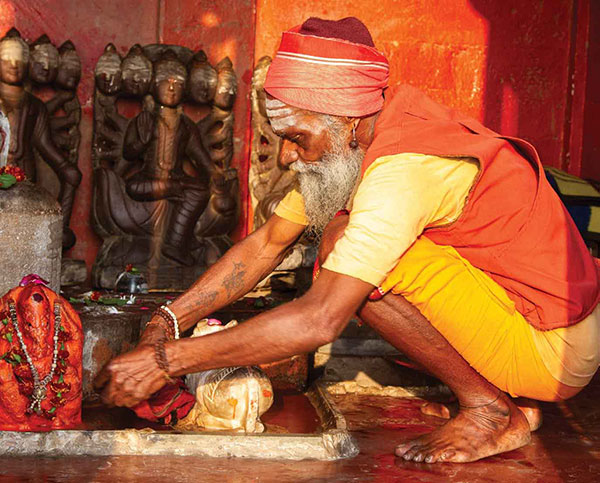 A sadhu prepares offerings at a Shiva temple in Varanasi. Sadhus are religious ascetics or holy persons who have renounced worldly life in exchange for a life at the edge of society. There are four to five million sadhus in India.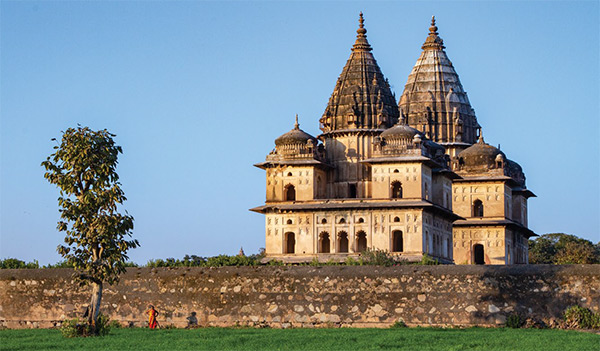 Numerous chhatris, or cenotaphs, sit along the banks of the Betwa River in Orchha. Founded in 1531, the town is home to an ancient complex of classic Mughal architecture palaces, monuments and a fort.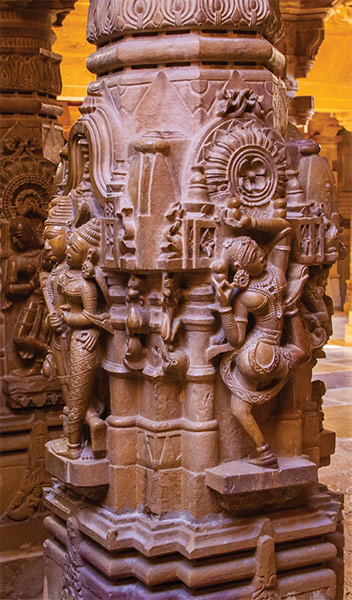 Close-up of an ornate pillar at Lodurva Jain Temple in the desert city of Jaisalmer in Rajasthan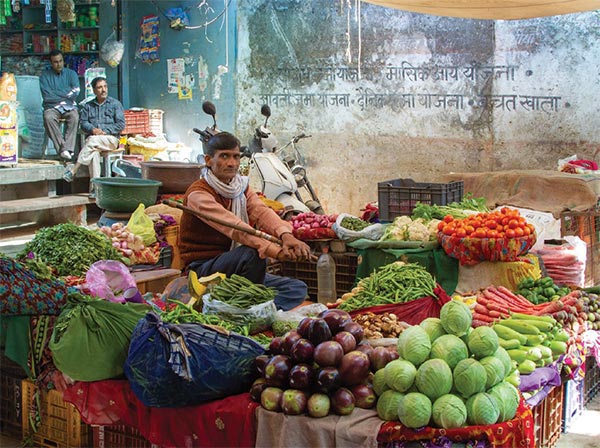 A vegetable vendor in Bundi keeps a long stick at hand for chasing away marauding monkeys and hungry cows.
Read more articles