palm springs your way
BY THERESA GAWLAS MEDOFF
Whether you're a fan of mid-century modern architecture and design, a parent looking for a fun family vacation, a golf or tennis addict, or a music or art lover seeking the best festivals, we have a plan to make the most of your vacation in Palm Springs, California, and the larger Coachella Valley.
Get to Know Greater Palm Springs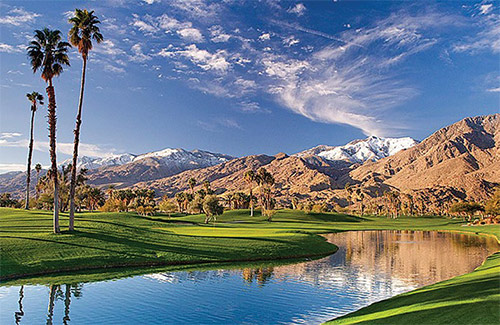 The Greater Palm Springs region of California emerged into our country's consciousness in the mid-20th century when Hollywood glitterati began flocking to the area 100 miles east of Los Angeles. With an average of 300 days of sunshine annually and the warmest winters in the Western U.S., the area, also known as the Coachella Valley, continues to attract Californians looking for a quick getaway and desert-loving snowbirds from around the world looking for a winter respite.
The 45-mile by 15-mile valley contains nine resort cities. Palm Springs is by far the best known, but as events such as the Coachella Valley Music and Arts Festival grow in popularity, visitors are becoming more familiar with cities such as Indio, Palm Desert, Indian Wells and Rancho Mirage and the many opportunities they offer for rest and recreation
Live Mid-Mod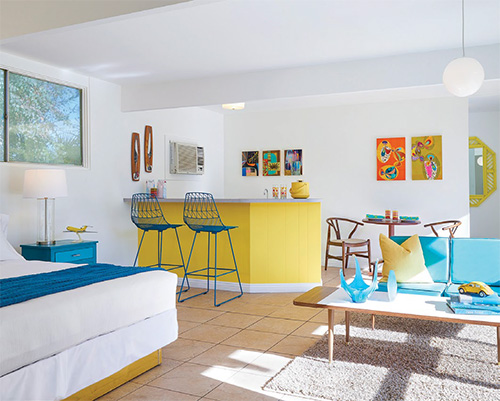 During Palm Springs' heyday in the mid-20th century, Hollywood's hip and happening—think Bob Hope, Lucille Ball, Cary Grant and Frank Sinatra—fell in love with this desert oasis, and quite a few of them built second homes here. With money to spare and a penchant for the au courant, it's not surprising that many of those A-listers embraced the mid-century modernist aesthetic that reigned from the 1940s through the mid-'70s. As a result, the Greater Palm Springs area boasts the largest concentration of mid-century modern architecture in the nation.
Visitors who love the Mad Men vibe—or are just in the mood for a little playfulness—can easily give their vacation a golden-era theme. Stay in iconic mid-mod lodgings such as the Del Marcos, a native-stone-and-redwood boutique hotel inspired by the Arizona architecture of Frank Lloyd Wright, or at the 16-room Monkey Tree Hotel, a Hollywood favorite restored to its original character and reopened in 2016. Play a round of croquet, and then cool off poolside with a martini at the Parker Palm Springs, revamped by Jonathan Adler in 2017 in bold, whimsical mid-century style. If you're bringing the whole family or just want more private digs, Acme House Company rents out more than 130 homes in Greater Palm Springs, many of them mid-century classics.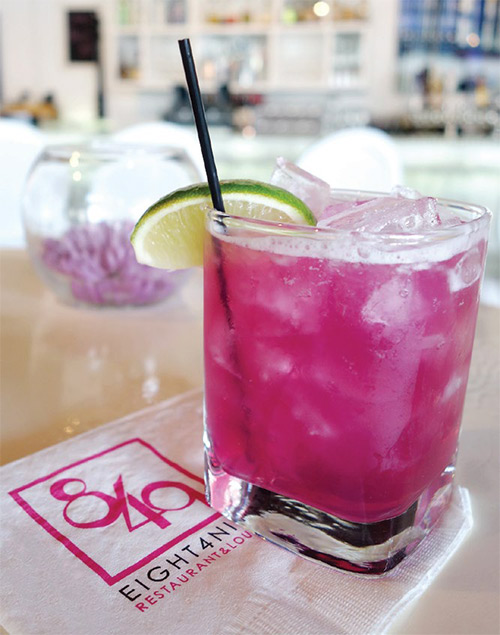 Take a tour of the area's best mid-mod neighborhoods, including Indian Canyons; Vista Las Palmas and Old Las Palmas (Leonardo DiCaprio owns the Dinah Shore Estate there); Twin Palms Estates (Frank Sinatra's neighborhood); and Movie Colony East (Kirk Douglas built a home there in 1955). Pick up a map from your concierge or the visitor center for a self-guided tour, or, better yet, sign on with MidMod Design Tour for an architect-guided excursion. Outfit yourself in vintage duds from Mitchell's, Gypsyland or Iconic Atomic, and throw on some inexpensive baubles picked up at Dazzles before heading out for a night on the town Rat Pack-style. At Melvyn's Ingleside Inn, founded in 1975, they still prepare Steak Diane tableside and have live entertainment nightly in the lounge. Ask to see the tables where Frank Sinatra always sat—one if he were with his mom and a different one for dining with friends.
Martyn Lawrence Bullard designed the Pink Cabana at the adultsonly Sands Hotel & Spa in fun shades of pink and green for a fresh take on the area's tennis and racquet clubs of the 1950s and '60s. Another hot spot is Eight4Nine Restaurant & Lounge. Located on North Palm Canyon Drive near some great vintage shops, Eight4Nine is an ultra-glam spot adorned with large black-and-white photos of Hollywood darlings of the '50s and beyond. Happy Hour cocktails and dishes are featured all day every day.
While you can live in mid-mod style in Palm Springs anytime, true aficionados descend upon the area twice a year: for Modernism Week's Fall Preview in October (October 17–20, 2019) and for the big shebang in February (February 13–23, 2020), with more than 350 events. That's when you can hop on a double-decker bus tour (claim a seat on the upper level—the better to peer over privacy fences), get behind the scenes with home and garden tours, attend films and lectures, ooh and aah at the looks on the fashion runway, and party nightly with the smart set.
Entertain The Family
Palm Springs has a reputation as an adults' getaway, but it has a lot going on for families, too. The Palm Springs Aerial Tramway rates as TripAdvisor's number-one attraction in the area for a reason: the world's largest rotating tramcar, it whisks riders through seven climate zones in minutes to an elevation of 8,516 feet near the top of Mount San Jacinto for a spectacular view of the valley below. Up this high, there can be snow in winter, and families can rent equipment for snowshoeing or cross-country skiing. In warmer months, hiking is popular; the mountain is within Mount San Jacinto State Park with its 54 miles of hiking trails.
The Living Desert, a combo zoo and botanical garden, has been tapped as a top zoo by both USA Today 10Best and Conde Nast Traveler. Ride the safari shuttle, take in free animal shows, let the kids get dirty in the Gecko Gulch play area—and even feed a giraffe. Got a kid who likes airplanes? Put the Palm Springs Air Museum on the itinerary. The museum exhibits dozens of aircraft from World War II and the Korean and Vietnam Wars. You can sit in the cockpit of a vintage warbird and get behind the controls of an F-16 flight simulator. Get out and enjoy nature with Smoke Tree Stables on a horseback trail ride along the base of the Santa Rosa Mountains or through Indian Canyons. Climb into one of Desert Adventures' signature open-air red jeeps for a tour of a private ranch preserve on the San Andreas Fault, where you'll visit a palm oasis, learn about desert plants and animals, and walk through the steep walls of a slot canyon.
It's no understatement to say it gets hot in the Southern California desert— particularly in the summer. While most every hotel here has a pool, some resorts cater to families with pools cum playgrounds. Check into the Omni Rancho Las Palmas Resort & Spa, where the kids (and you) can enjoy Splashtopia with its 425-foot lazy river, double 100-foot waterslides, water-play zones and sandy beach. The Westin Mission Hills Golf Resort & Spa features a large family pool with a 75-foot waterslide as well as an adult-only pool and a quiet pool. Pool-hop with the kids among six family-friendly pools (there's one reserved for adults, too) at the 45-acre Hyatt Regency Indian Wells Resort & Spa. Camp Hyatt entertains kids ages 3 to 12 with scavenger hunts, mini-golf, arts and crafts, movies and more.
Play Where the Pros Do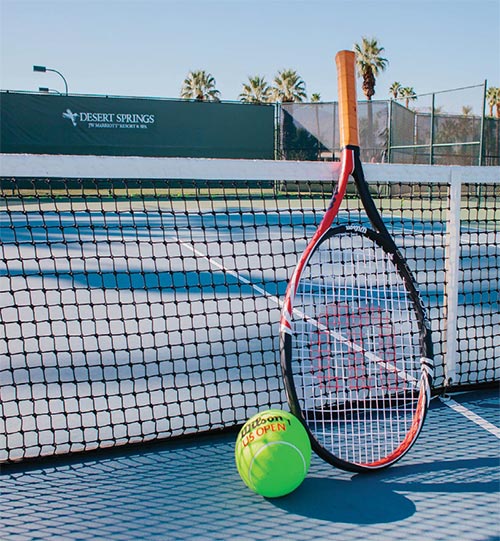 With sunshine and warm temperatures in abundance, Greater Palm Springs is a mecca for those who play golf or tennis.
The area has hosted the PGA Desert Classic for the past 60 years. Some readers might remember the event's long-time association with Bob Hope, and the Classic's pro-am competition continues to attract a who's who of entertainers and politicians.
But you don't have to be a celeb to hit the links here. The area boasts more than 100 golf courses, including those designed by the likes of Arnold Palmer, Pete Dye, Jack Nicklaus and Greg Norman. While some of the most highly praised courses are at private country clubs, there are public and resort golf courses that rate highly, too. The Stadium Course at PGA West at La Quinta Resort & Club, home of the Desert Classic Golf Tournament, was named one of the Top 100 Courses You Can Play by GOLF magazine in 2017. GOLF magazine also lauded The Westin Mission Hills Golf Resort & Spa, which has courses designed by Pete Dye and Gary Player, with the latter course earning kudos for being "what may be the best golf course in the Palm Springs area." The Palm Springs' public Tahquitz Creek Golf Resort has earned honors from Golf Digest.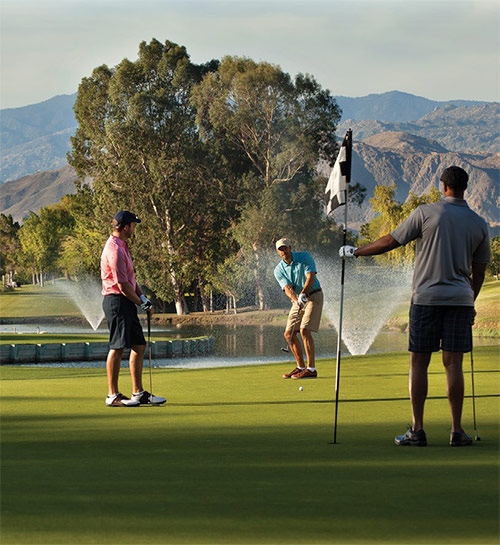 If you want to lower your handicap, you can get instruction from some of the sport's finest at the golf academies of PGA WEST, Desert Willow Golf Resort, JW Marriott Desert Springs Resort & Spa, The Westin Mission Hills and others.
Over a period of two weeks in March, a half-million spectators will come to the Indian Wells Tennis Garden for the BNP Paribas Open, aka the Indian Wells Masters.
There are some excellent options for those who want to play tennis, too. The PBI Tennis Club at JW Marriott Desert Springs Resort & Spa has raked in accolades from Tennis magazine, Tennis Resort Online, Bloomberg and Forbes Travel Advisor for its 15 hard courts, 3 clay courts and 2 grass courts (a rarity). You can hit the courts on your own (they're also open to nonguests, for a fee); sign up for lessons with a pro; or play doubles in the Grand Slam Round Robin held twice weekly from mid-November through April. Consistently ranked among the Top 20 Tennis Resorts by Tennis magazine, the Tennis Club at La Quinta Resort & Club features 23 courts of hard and clay surfaces, including 10 lighted for nighttime play. Lessons are available, too.
Find Your Festival
Palm Springs has festivals for every season and every reason. Beyond Modernism Week and the big tennis and golf tournaments, there are music fests, film fests and art fests.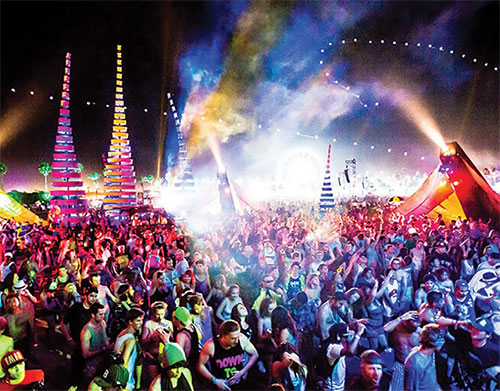 Probably the best known of the area's shindigs is Coachella Valley Music and Arts Festival, or simply, Coachella. One of the largest music festivals in the world, Coachella takes over the Empire Polo Fields in Indio for consecutive three-day weekends each April (April 10–12 and 17–19, 2020), bringing nonstop rock, pop, indie, hip hop and electronic dance music on multiple stages to crowds that can swell to 125,000 per weekend. Headliners in the past decade have run the gamut from Paul McCartney to Beyoncé, and there are plenty of indie artists and up-and-comers, too. There are also art installations in the tradition of Burning Man. Many festivalgoers camp on the premises in their own tents or cars or in supplied tent accommodations that range from basic canvas to air-conditioned safari tents to the Resort at Coachella's luxury yurts.
The weekend following Coachella, the Empire Polo Fields host seasoned and newer country music artists for Stagecoach, one of the largest country music festivals in the world (April 24–26, 2020). Drawing some 75,000 over the three-day festival, Stagecoach 2019 featured the likes of Luke Bryan, Cole Swindell, Kane Brown and Scott McCreery.
Not surprising given its history as a place where movies were filmed and movie stars vacationed, Palm Springs has a plethora of film festivals. The granddaddy of them all, the Palm Springs International Film Festival, celebrated its 30th anniversary in January. One of the largest film festivals on the continent, the one in Palm Springs attracts more than 135,000 film aficionados annually for nearly two weeks of feature films and documentaries.
Films for the next festival—January 2–13, 2020—will not be announced until December, but the list of films that have premiered here over the years includes such works as Selma, Amelie, Chocolat, La Femme Nikita, Enchanted April, Cinema Paradiso and Crouching Tiger, Hidden Dragon. The film festival attracts industry luminaries, too, who come to receive awards or honor colleagues receiving them. Honorees last year included Bradley Cooper, Spike Lee, Melissa McCarthy, Glenn Close, Regina King and Olivia Colman.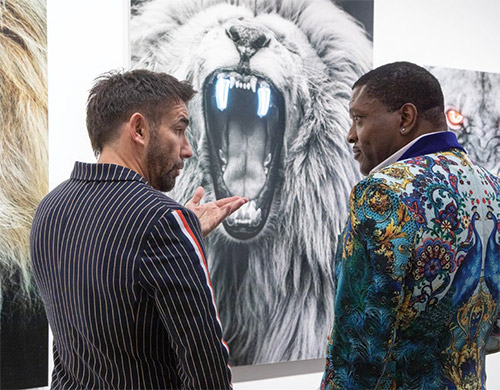 Following in the spring are the Native Film Fest with films by, about and starring Native American artists (2020 date not set at press time); the American Documentary Film Festival (March 27–21, 2020); the Arthur Lyons' Film Noir Festival (May 7–10, 2020); and the highly competitive Palm Springs International ShortFest, the largest short film event in North America (June 16–20, 2020).
Lovers of the visual arts will find more than a few enticements to the Coachella Valley. First on the scene in late January each year is the Southwest Arts Festival, one of the nation's top juried arts festivals, featuring works by some 250 artists from around the world.
Each February, Art Palm Springs draw thousands of art enthusiasts to the Palm Springs Convention Center to see works by hundreds of post-war and contemporary artists from Asia, Europe, and North and South America. In March, the towns of Indian Wells and La Quinta host their own juried arts festivals.
A relative newcomer on the scene is the Desert X biennial art exhibition, launched in 2017. Earlier this year in its second showing, Desert X brought artists to the Coachella Valley to create 18 largescale site-specific artworks and installations. Architectural Digest labeled Desert X 2019 "a stunning visual landscape" and assertedthat it "is more than just an art exhibition. It's a journey into our beliefs and our perception of the world." The next rendition comes around in February 2021 and runs for 10 weeks.
Read more articles