Portugal for the Senses
BY LISA SANDS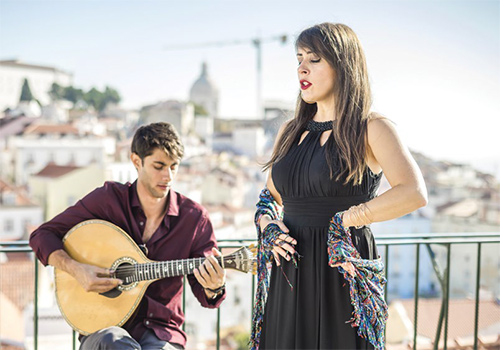 On a cobblestone street at dusk in Barrio Alto, one of Lisbon's ancient neighborhoods, we trail our guide as he wends through a series of alleyways lined by narrow buildings of varying height. In the apartments above, someone strums a guitar and a baby is crying. A sheer curtain flutters from an open window, framing an old woman with a weatherworn face and sensible eyes resting her chin on her palm, surveying our group as we pass. We follow our guide through a hidden doorway into a 17th-century wine cellar and are shown to our seats, ready to experience Fado, the traditional music of Portugal. We settle in with a light meal and local wine. Then the lights dim as a singer approaches the stage. After a slow and haughty look around to silence the room, she casts down her eyes and begins to sing, her voice passionate, insistent and finally resolved to accept the fate of the lyrics.
Fado literally means fate, and its songs tell stories of love, loss and celebration. Accompanied by a trio of instruments, including a 12-string guitar, the singer's emotion is clear, though I can't understand a word she's singing. I am so entranced that I'm holding my breath, even as the song ends to rousing applause. She bows dramatically, and our eyes meet, a flicker of recognition that burns and dies in a single moment. This is Fado, and somewhere in my DNA, it feels as if it were part of me.
As the great-granddaughter of Portuguese immigrants, I had dreamed of visiting the rugged hillsides that my ancestors had farmed and to understand the despair (or was it excitement?) they must have felt when leaving their homeland for America. As a child, I was repelled by the unusual foods that my grandparents ate, but now I wanted to taste that strange giant fish I had seen my grandmother pound and bake. And here, in a musty wine cellar in Barrio Alto, I want to know the meaning of that Fado song and to feel the passion in the singer's caramel-brown eyes—eyes that look just like my mother's and my own. As the singer sweeps off the stage, I let my breath go. Fate had brought me to Portugal, and I was ready for it to consume me.
A Journey Begins with the First Step
I was traveling with my husband, John, and 26 others on a 10-day guided vacation with Trafalgar that would ultimately take us on a 1,600-mile loop around the country in a luxury motorcoach. That's a lot of driving considering that Portugal, about the size of Indiana, has just about 2,000 miles of highway, nearly all of which were built after the country became part of the European Union in 1986. Even though the country now has easier access to the rest of the continent, Portugal still feels exotic, with its Moorish-influenced architecture, geography ranging from ocean-battered cliffs to vast deserts, and sultry year-round weather. Though it feels exotic, a vacation to Portugal is relatively affordable, and most people are friendly and speak English, as we discovered during our first two days in Lisbon, Portugal's capital and its most populous city.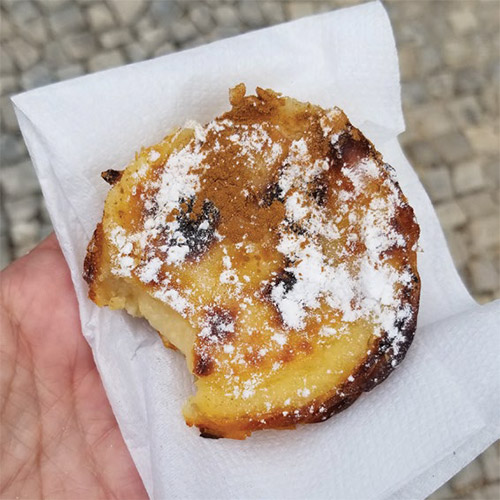 Sightseeing in Lisbon included the Monument to the Discoveries, a structure commemorating the 500th anniversary of the death of Prince Henry the Navigator. The 170-foot-tall edifice portrays 33 notable figures in Portugal's seafaring heritage, including Prince Henry, Ferdinand Magellan and explorer Bartolomeu Dias, who shares the same last name as my grandparents and is (imaginably) my distant ancestor. Nearby, we visited two UNESCO World Heritage sites: the partially submerged Belém Tower, a 16th-century fortress built where the Tagus River empties into the Atlantic Ocean, and the 16th-century Jerónimos Monastery, famed for its Portuguese Manueline style of architecture and its pastéis (pastries) de Nata, a distinctive egg-custard tart made from a recipe created by the men and women of the church. Long ago, egg whites were used to starch the clerical robes, and the thrifty nuns and monks developed the pastry to make use of the leftover yolks. Today, the tart is the de facto choice throughout the country for breakfast or a late-afternoon treat.
A typical Portuguese dinner in Lisbon's Alfama neighborhood, with its tram car clanging through the narrow streets, marked our introduction to salt cod. When we were told that this staple of Portuguese cooking can be prepared in 365 ways, we all laughed, but our travel director, Pedro Pinto, was serious. We tried it baked and breaded, stewed and stuffed. I realized this is the same giant fish I used to see my grandmother preparing (and I would refuse to eat). I was happy to discover that it's actually very tasty. We also tried the homemade peri-peri sauce, another Portuguese staple, which we were warned was very spicy. Like most other things we discovered about the Portuguese, it was sensibly hot, with just enough fire to balance the sweet undertone.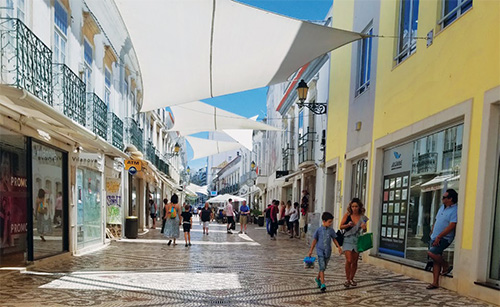 The Alfama is one of the few areas of Lisbon that wasn't totally destroyed by the massive earthquake of 1755, which caused a tidal wave and widespread fires throughout the country and was felt as far away as Finland. Most of Lisbon was rebuilt after the disaster, including the stunning sidewalks and plazas that are lined with hand-cut, hand-placed cobblestones in swirling mosaics of white, black, green and red. While pedestrians make use of these artistic walking paths, on most of the roads, cars zoom over plain old cobblestone (if that's a thing). The sensible women of Portugal wear sensible shoes no matter how dressed up they are; the limestone cobbles can be slippery and uneven. This charming display of colorful cobblestone sidewalks was repeated in every town we visited in Portugal.
Follow The Brick Road
After we left the relaxed hustle of Lisbon along one of those plain cobblestone roads, we headed south in our motor coach across the Tagus River and through the Alentejo area toward Portugal's southern coast and the Algarve region. As we journeyed, the scenery morphed from metropolis to countryside punctuated by towering cliffs covered in pine scrub and wild rosemary, then transformed into vast valleys of rust-soiled, semi-arid farmland dotted by evergreen cork oaks, olive groves and sweet fig trees. We stopped to get a closer look at a cork tree and learned about the centuries-old method for harvesting cork; the thick, peeling ridges of bark are rough yet pliant to the touch. The dry breeze bathed us in the scent of spices of the Alentejo, an invigoratingly herbal fragrance.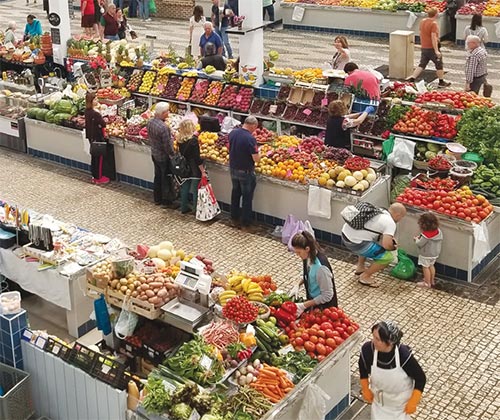 The scent changed dramatically at our next stop: a market in Setúbal. Dozens of different kinds of fish lined the tables, caught that morning just offshore in the Atlantic, their silvery scales sparkling like diamonds and attracting the eyes of shoppers. Fresh-picked fruits and vegetables were displayed in rainbows of color down one aisle and up another, in patterns reflecting the cobblestone sidewalks. A smiling merchant offered samples of ruby-red cherries, which exploded in our mouths with a burst of sugary nectar.
We spent the next two nights in the Algarve village of Portimão on the banks of the Arade River. John and I walked to a nearby grocery store for a couple of bottles of local wine and some cheese, crackers, grapes and almonds—all purchased for less than 10 euros, a little more than $11 dollars. We set up our spread on our hotel room balcony, which overlooked a series of swampy-looking rectangular plots near the riverbank. We later learned that they were Roman-era salt flats that had been hand-harvested for more than 1,000 years.
This kind of primitive site is common in Portugal. The country is surrounded by Spain on two sides and the Atlantic on the other two, so many of its ancient structures have remained unmolested for centuries, from Roman temples to the nine UNESCO World Heritage sites we visited during our trip. This sheltered geography, with its temperate climate and fertile land, meant that any invading armies, including the Romans and the Moors, just ended up staying, shaping the unique Portuguese culture that exists today.
At World's Edge

Portimão provides a perfect base for exploration of the Algarve. To its west, the jagged cliffs of Ponta de Sagres mark the southwestern tip of Europe, rising majestically 400 feet above the Atlantic. Like a sentry overlooking the sea, the Cape St. Vincent lighthouse warns sailors with one of the strongest beacons in Europe, visible from 37 miles away.
To its east, we followed the coastline along a sand-dusted highway to the bustling beach town of Lagos. Battered by eons of wind and waves, limestone arches at Lagos' Ponta da Piedade rise out of the cerulean sea. I climbed from the top of the sun-swept cliffs down 160 rocky steps carved into the hillside, to the edge of the crystal-clear water. Waves lapped over smooth brown rocks covered in emerald moss, carrying the eye out to sea along a spectrum of blue—azure, sapphire and turquoise—as the horizon separating sea and sky melted together.
The colorless water reached out calmly and invited me to touch. When I put my hand in, it was shockingly cold, despite the golden sun blazing above in the cloudless summer sky. I closed my eyes, turned my face upward and breathed deeply. The scent of salt spray and damp sand lingered on my skin as I climbed back up the steps.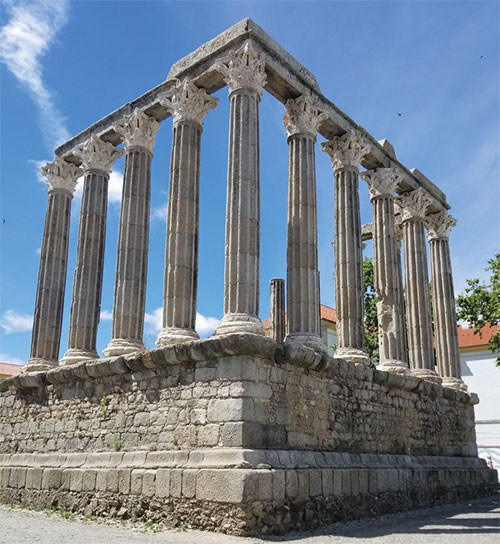 After a couple of days in the Algarve, we traveled north past vineyards bursting with grapes and hillsides erupting with honeysuckle as we made our way to the ancient UNESCO city of Évora, a town that traces its history back more than five millennia. A massive city wall completed in the 14th century encloses a Gothic cathedral, a 2,000-year-old Roman temple and the Moorish-influenced castle of Portuguese kings.
We explored the old town and one of its oddities: the Chapel of the Bones, built by Franciscan monks in the 16th century and adorned with human bones excavated from the town graveyard. The chapel was a place for contemplating the mortal condition, and over its entryway, inscribed in Latin, is a sentence that translates as "We bones that are here are waiting for yours." We got goosebumps despite the warm June day, so we left for our own contemplation over tapas and cold beers. In the evening, we visited Évora's annual Feira de S. João for shopping and people watching. The carnival buzzed with activity, aglow with twinkling lights and blanketed by the aroma of deep-fried sweets. June is a busy month for festivals honoring saints, and I imagine my great-grandparents probably attended similar community events. I saw a resemblance to my grandmother in the women we passed; I recognized her easy smile and her pear-shape. Wondering what it would have been like for me if my great-grandparents had never left, I took a deep breath of sugary-sweet air and sighed.
Waiting to Inhale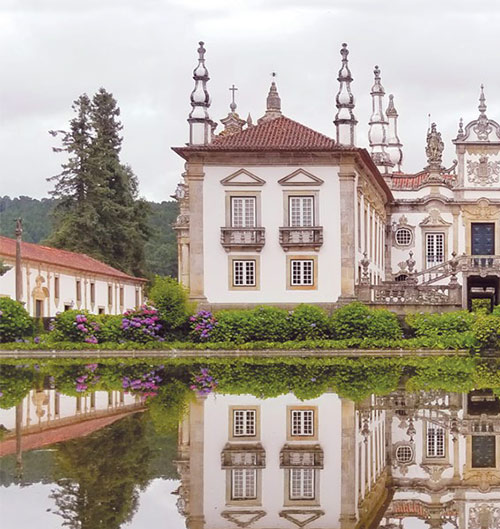 Pine forests enveloped the highway as our journey continued north. Clusters of wind turbines stood watch on the hillsides, arms waving as we passed through the Dao Valley, one of Portugal's oldest wine regions, and the Douro Valley, famous for its port wine production. The breeze was scented by pine and musky jacaranda blossoms mingled with the fragrant honey of tilia trees' golden buds. At the gardens of Mateus Palace, made famous by its image on the eponymous wine bottles, we were intoxicated by the sweeping perfume of lemon verbena, cypress and roses. At the 10th-century UNESCO village of Guimarães, the birthplace of Portugal's first king, massive hydrangeas in shades of fuchsia and magenta oozed over garden fences. The aroma of fresh-baked bread drew us to the town square, and we had lunch at an outdoor café near the base of a monument erected in 1340.
The city of Porto rose in the distance beyond precipitous vineyards carved like mad staircases into the hillsides. Our introduction to Portugal's second-largest city began with a sightseeing cruise on the Douro River, under bridges built by Frenchman Alexandre Gustave Eiffel in the 1870s to connect the cities of Porto and Vila Nova de Gaia. Many of the post-earthquake port warehouses still stand, brightly colored in shades of blue, terra-cotta and gold, illuminated by the setting sun. We had a couple of our best Portuguese meals in these two cities: in Gaia, at the riverside Sandeman café, where we lunched on crusty bread, local cheese and juicy olives complemented by rich red Douro wine, and in the historic district of Porto at Ten Downing, a restaurant overlooking St. John's Square, where we enjoyed flaming Portuguese sausage and baked rabbit.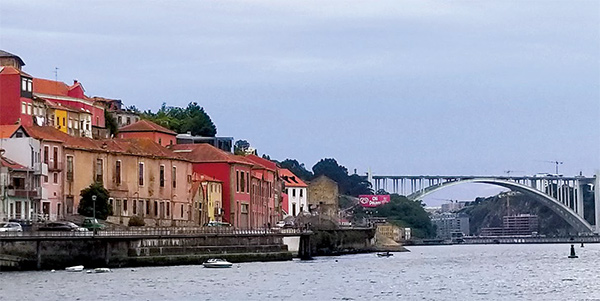 What the Portuguese are most serious about, besides their bread, their olives and their wine, is their dessert. Just as in Lisbon, we found that each town had its own version of pastéis. As they have used their culinary creativity with salt cod, the economical Portuguese have also developed 365 ways to turn egg yolks into sweet, filling desserts. In the city square at Coimbra, once the capital city and home to Portugal's oldest university (dating to 1290), we made a lunch out of a single pastel de Tentúgal, which looked like a burrito made of thin, buttery pastry layers dusted with powdered sugar encasing a rich egg custard. The bakery owner had presented a silver tray with a flourish, and our group gathered around like schoolkids, jostling to pluck out the biggest and most powdery pastel. We devoured them warm right there on the street, not caring about the powder covering our chins as the locals walked by with knowing looks. We did not feel at all bad about eating dessert for lunch.
Circle of Life
Now, for a few words about traveling with a group as part of a guided vacation. I've done this a few times, and there are two key ingredients for a great experience: the travel director and the other travelers in the group. On this trip, we scored on both counts. Our travel director, Pedro, was just the right combination of history teacher and play-maker, and he took pleasure in introducing us to his homeland with humorous personal insights about the people and the culture. The other travelers in our group came from Australia, Canada and the U.S. and ranged in age from early 30s to early 80s. Our number included several solo travelers, a few teachers and even a politician; these were interesting people eager to learn about other cultures.
Our days were packed with sightseeing; sometimes three towns in a day, and we were on the move generally from 8 a.m. until 9 p.m. We stayed in seven hotels in 10 days, and we saw every important sight during our circular Best of Portugal vacation, just as we had hoped to do. As one of our traveling companions said, "This isn't meant to be a holiday; you're on tour!" We had a first-rate vacation with experienced travelers who shared our fascination in discovering new things every day.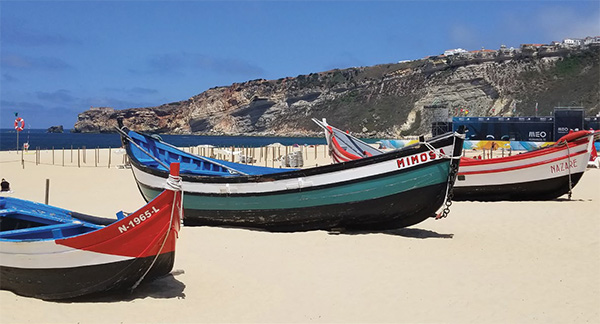 During our travels, we bonded with our new companions as we tried unusual foods and visited places that had seen long-gone generations pass through. Under a robin's-egg blue sky, we visited the Convent of Christ in Tomar, a dominating Knights Templar fortress built in the 1100s and a designated UNESCO World Heritage site. We had cod fritters (naturally) on the wide golden sands of Nazaré, a popular seaside resort known for its massive waves, including the record-breaking 78-foot wave conquered by American surfer Garrett McNamara in 2011.
Despite hundreds of pilgrims, some of them crawling on their knees through the enormous open-air plaza, the reverent silence that shrouded Fátima was disturbed only by cheerful bells tolling the hour. In this town where Our Lady reportedly appeared to three young shepherds in 1917, we joined the faithful at a candlelight procession under a velvety midsummer night sky. In the tiny hamlet of Óbidos, we meandered along the town's single cobblestone street, which is lined with artisan shops, cafés, a bookstore and a pousada, an intimate Portuguese hotel within the former castle. We climbed along the narrow old city walls, 20 feet or more above the village, along an uneven footpath that had been in use for almost a thousand years.
In 1210, the town was a gift from King Alfonso II to Queen Urraca. Legend has it that the king gave his queen a ring forged in silver hearts and adorned with three jewels. The first day she wore the ring, the Queen made three wishes; each came true on the very day when one of the jewels was lost.
Of course, I had to buy a replica ring. I put on the ring, but the wishes that floated through my mind could never have come true. I wished my mother could have been there with me. I wished I had tried my grandmother's Portuguese cooking. I wished I knew why my great-grandparents had left this amazing country. It was too late; all of them have passed on. Instead of wishing, I took a deep breath and gave thanks for this journey that I had always been destined to make.
Read more articles