A Star Is Reborn
BY LISA SANDS
THE CELEBRITY SUMMIT EMERGES FROM HER MULTIMILLIONDOLLAR MAKEOVER WITH NEW STAR QUALITY.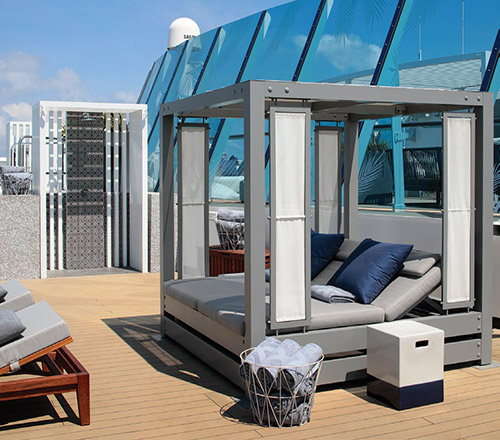 As the cruise industry becomes laser-focused on managing profitability in an environment of fierce competition, a trend toward revamping existing ships with the latest features rather than building new ones is well underway. Case in point: the 18-year-old Celebrity Summit has just experienced this rite of passage, appearing with a beautiful new look. After just 31 days in a Grand Bahama Island dry dock, under the knife, so to speak, of experienced engineers and designers, the ship was brought up to the expectations of savvy cruisers looking for a high-tech yet high-touch mid-sized cruise experience.
The Summit is the second ship in Celebrity's 10-ship fleet to go through this process (the first was the Celebrity Millennium, unveiled in January 2019). These refurbishments are part of a $500 million initiative to renovate all of Celebrity Cruises' Millennium-class ships in the style of the much-anticipated Celebrity Edge, the nearly $1 billion new build that launched to high praise in November 2018 and was named Best New Ship by the editors of Cruise Critic, a leading user-generated website.
Originally built in 2001, the Summit has been revised from stem to stern. All staterooms and most restaurants, lounges and public spaces were overhauled. The result: a ship that feels luxurious and hip, a little whimsical and cheeky. I experienced the new Celebrity Summit on a two-night introductory cruise from San Juan, Puerto Rico, upon its reentry into service in late March.
So, why is the renovation of a cruise ship important to readers of AAA Traveler Worldwise? It's not just because it's a classy mid-sized premium-market ship but also because the Celebrity Summit is homeported in Cape Liberty, New Jersey—within reasonable driving distance for many of our readers, particularly those who don't want to fly to Florida to take a cruise.
Top of the Charts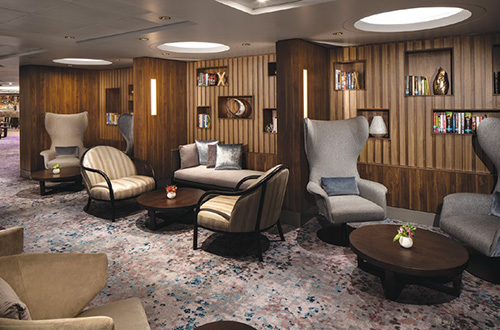 Let's take it from the top—literally. On Deck 12, an entirely new Retreat Sundeck was added for suite passengers, with shady cabanas and a hot tub overlooking the bow of the ship, offering a quiet respite from the more active Pool Deck on 10. Suite guests also have exclusive access to the eclectic Luminae restaurant and the new Retreat Lounge, offering free drinks, light appetizers and concierge services.
Every stateroom was modernized in terms of layout and amenities, and 30 new cabins were added. Created by acclaimed interior designer Kelly Hoppen, staterooms are now a soothing powder puff of comfort, decorated in shades of dusty rose and pebble gray with subtle textures such as cashmere bedding, faux-wood paneled walls, and an oversized velvet lounge chair that's pretty and functional as an optional foldout bed to accommodate another guest in the cabin. In fact, all room categories have been reconsidered to maximize comfort and purpose. Beds have been raised so that suitcases can slide right underneath, cabinets with clear doors offer extra storage space, and USB ports and power outlets are conveniently located where you'd need them most.
A significant upgrade was made at the ship's spacious Canyon Ranch Spa. In addition to the requisite massages, facials and other indulgences offered in sophisticated treatment rooms, the spa's Persian Garden area includes a Turkish bath, a salt sauna therapy room to open pores and help ease breathing, and a dry sauna with infrared light to promote collagen development. The adjacent fitness center has added more square footage to accommodate wellness-oriented pursuits such as nutrition seminars, dance classes, guided meditation and yoga. Guests can even take spinning classes on state-of-the-art stationary bicycles overlooking the sea through the Beach in Horseshoe Bay, Bermuda center's floor-to-ceiling windows.
And, thanks to new tech innovations, keeping track of your salsa class can be as easy as using your smartphone. As part of the upgrade, Summit passengers can leverage the Celebrity mobile app to plan, explore and enhance their overall onboard experience. Features of the app include key card technology so that you can hold your phone up to your stateroom door to unlock it (rather than using your room card). On the app, you can see the ship's planned daily activities, find live entertainment, book shore excursions, browse restaurant menus and more. One of my favorite features was being able to view each deck's layout, which helped me easily find my way through the ship. With 12 decks, a ship length of just under 1,000 feet and a guest capacity of 2,218, Celebrity Summit is simple to navigate, even without using the app. I learned from a colleague that restaurants were all located in the back of the ship and entertainment venues were up front (the opposite of a mullet haircut, with the party in the front, which is how I remembered this tidbit).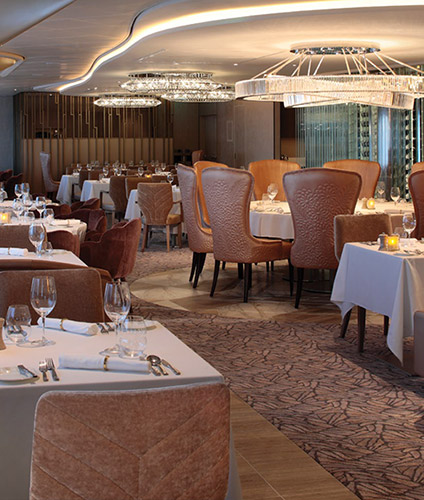 Taking Center Stage
The entertainment onboard has been elevated, too. In partnership with the American Ballet Theatre, guests on select sailings will be treated to performances featuring the ballet's professional dancers as well as ballet barre classes for adults and kids. The skill of these amazingly athletic dancers was beautiful to observe, and the performance felt right in line with the ship's overall vibe: sophisticated yet not at all stuffy. On the flip side, eccentricity was in full view at the Silent Disco headlined by passengers/dancers of, er, questionable talent. In this quirky new trend, guests don headsets and choose from three music channels to listen to their favorite genre. You can see what others are listening to by looking at the color of their lighted headsets (red, green or blue) and then gravitate to those listening to the same playlist. The randomness of the dancing and the out-loud singing to songs that only they could hear was great entertainment for both dancers and observers lounging around the Pool Deck under the stars.
Other entertainment options included nightly musicals; a redesigned casino with new high-tech slots, roulette and other games of chance; live music at various venues, including a pop trio and classical violinists; and shopping along Deck 5's promenade of specialty boutiques that includes tony retailers such as TAG Heuer and even an Apple store.
Ready for a Close-Up
The public spaces were a tactile treasure trove; each passageway, café and lounge varied in theme from space to space. Overflowing with velvet and linen, stripes and dots, wood and chrome, invigorating color and monochromatic edge, each nook and cranny invited investigation and touch. The patterns worked together to subliminally let you know when you had moved into a new area of the ship. For example, in the two-story Cosmopolitan Restaurant, the atmosphere makes diners feel as if they were at a private seaside resort. Underfoot, wave-and-sand patterned carpet complemented the textured wall covering. Overhead, massive circular lighting gave the sensation of looking up at frothy waves. Chairs were covered in metallic fabric backs and pale fawn-colored velvet seats; at intimate tables for two, you could sit in oversized clamshell-shaped chairs.
There are eight restaurants and cafés on board, offering a wide range of options. The Oceanview Café seemed to be open almost all the time, serving everything buffet-style, from pizza and burgers to salmon, steak and most every ethnic food you could imagine. At the Tuscan Grille, I enjoyed a perfectly cooked filet mignon and made-from-scratch pasta; as a dipper for the hot-bread assortment, there was fresh basil muddled in extra-virgin olive oil (the server joked that they grew the basil on Deck 16—no such place). Everything I tasted aboard was fabulous and served by staff who were friendly, happy and energized to be part of the ship's reinvigoration.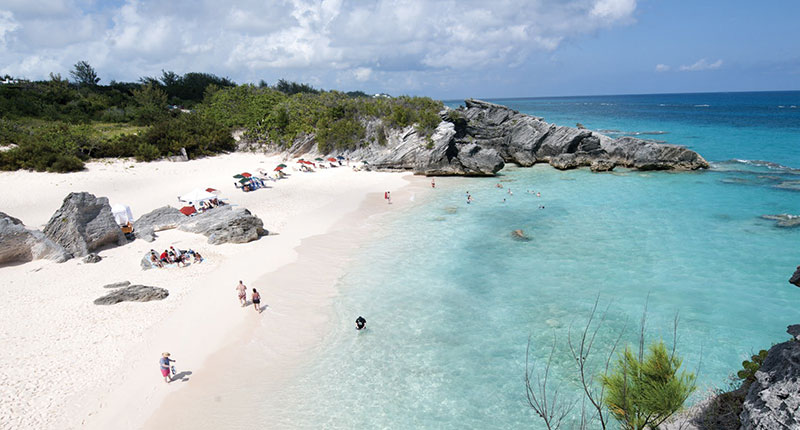 Celebrity Summit has a classy, cool look, but its bones are still the same: a refreshing redevelopment of a mid-sized ship that offers an even more guest-oriented experience than before. With Celebrity's Millennium and Summit now completely renovated, and Equinox due for re-introduction in June, there are six more ships scheduled for upgrades through 2023, all inspired by the look of the line's flagship Celebrity Edge and with a goal of providing a consistent experience across the fleet.
PLANNING YOUR CRUISE
The Celebrity Summit will spend the summer at its home port in Cape Liberty, New Jersey, sailing seven-night itineraries to Bermuda that include three relaxing days at sea. Readers who act quickly might still find space on an exciting 10-night itinerary to Canada and New England departing June 27 that includes an overnight on July 1 in Halifax, Nova Scotia, to celebrate Canada's birthday and an overnight in Boston to see the fireworks on July 4.
In September, the Summit will sail fall-foliage voyages to Canada and New England, and starting in late October, guests can sail to the Caribbean from New Jersey without ever boarding an airplane. Unique itineraries next year include a 10-night sailing with ports of call in Newport, Rhode Island; Charleston, South Carolina; and Bermuda; and a 14-night jaunt across the Atlantic to Dublin, Ireland, that includes stops in Nova Scotia, Iceland and Greenland.
Plus, when you book your Celebrity cruise with AAA, you get free parking at the port in Cape Liberty. For details, go to AAA.com/Celebrity.
Read more articles