After the Wall
BY AMY S. ECKERT
Thirty years after its demolition, Germany's capital celebrates the fall of the Berlin Wall.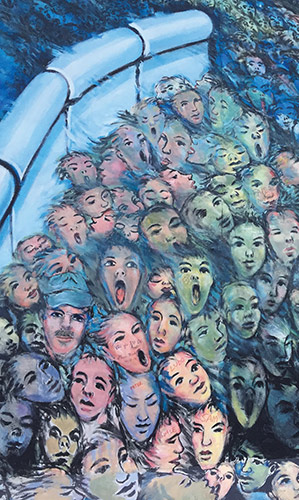 A palpable energy permeates Berlin, the capital of Germany. A new Museum of Modernism and a new Monument to Freedom and Unity are in the works. The city's Schivelbeiner Straße (Street), commonly called "Vegan Avenue," ranks as the world's first, uniting grocers, cosmetics makers, and even booksellers and shoe sellers in an animal product-free shopping zone. And Berlin's seven-year project to restore and modernize its 18th-century Opera House Unter den Linden wrapped up just a year ago.
Still, in spite of all that's new, Berlin is often defined precisely by what it no longer has: a wall. The concrete and steel barrier was constructed by Socialist East Germany in 1961 to separate its population from West Berlin and restrict residents' travel to other Western countries.
On November 9, 2019, Germany observes the 30th anniversary of the fall of the Berlin Wall and its nation's return to unity and freedom. All year long across Berlin, museum exhibitions, film screenings and concerts commemorate the dismantling of the city's concrete barrier. But for those interested in the Berlin of the Cold War, a collection of historical museums and markers ensure that this chapter in German history is never hard to find.
THE WALL AS A JAGGED LINE
The Berlin Wall remains etched—literally—in Berlin's city streets. A combination of red cobblestones and metallic bands joins to form a zigzag line that follows the course the wall once took: down the middle of the street near the Reichstag, alongside a busy transportation center on the Potsdamer Platz, across a sidewalk in the shadow of the iconic Brandenburg Gate.
It's easy for visitors to lose track of where they are in modern-day Berlin. That is, which neighborhoods were once in East Berlin, and which were in West Berlin? And which plazas once sat within No Man's Land, and which were crowded with armed border guards until a few decades ago? Then suddenly, a downward glance reveals a stripe in the concrete and a bronze placard: "Berliner Mauer [Berlin Wall] 1961–1989."
Guided Trabant tours have become a popular way to follow the traces of the Berlin Wall and to explore the history of a then-divided city. Across Berlin, visitors can spot caravans of Trabants, or Trabi safaris, long lines of boxy East German automobiles that belch clouds of smoke from their two-stroke engines and broadcast explanatory commentary through the cars' radio speakers. The safaris show glimpses of life as it was lived in the Cold War era as they wend past Berlin's most iconic Cold War sites: the Brandenburg Gate, the Berlin Television Tower, and many of the city's most poignant Cold War memorials and museums.
REMEMBERING DARKER DAYS
Berlin's UNESCO-listed Museum Island (Museumsinsel), a collection of five monumental art and historical museums that compose the world's largest museum complex and date from 1830, lies on a Spree River island. Thirty years ago, Museum Island sat isolated within the Soviet sector of post-WWII Berlin, virtually inaccessible to Western travelers. Today, the cultural center is considered one of Berlin's must-see attractions—and one of its busiest. Long-established exhibitions in Museum Island's 19th-century museums, including the Old National Gallery (Alte Nationalgalerie, Berlin's premier art museum), the Old Museum (Altes Museum, home to an array of ancient Greek, Roman and Etruscan artworks), and the New Museum (Neues Museum, contrary to its name, home to Egyptian and prehistoric objects), have long drawn visitors to Museum Island. But a flurry of ongoing restoration and expansion projects at Berlin's Pergamon Museum (Pergamonmuseum, famous for its ancient Greek and Roman architectural pieces), a new visitors center, and an underground tunnel that will soon connect the individual museum buildings make Museum Island a worthwhile and ever-changing stop.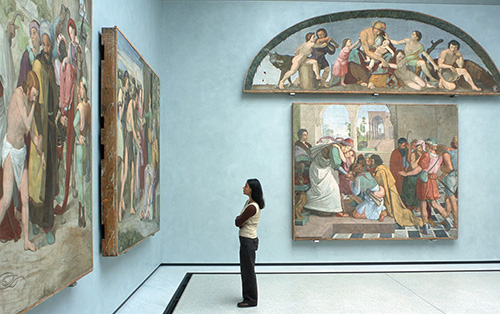 Lying across the water from Museum Island is the much smaller and oftenoverlooked DDR Museum. The DDR Museum (Deutsche Demokratische Republik, or East Germany) focuses its attention on East German residents' everyday experiences behind the wall. The museum's centerpiece is a fiveroom apartment, fully furnished with period furniture, appliances and décor. Other exhibits recall East Germany's fledgling fashion industry as well as East German-made snacks and music. Displays also recount the government's chilling surveillance and interrogation programs.
Checkpoint Charlie once marked the border between East Berlin's Russiancontrolled sector and West Berlin's American-controlled sector. These days, the grim machine gun-toting crossing guards have been replaced by Berlin's favorite photo op: two men dressed as American soldiers who stand before the historic crossing point, parade back and forth, and pose for photos alongside Western tourists. Beside the guard booth, the two-story Checkpoint Charlie Museum (Mauermuseum Haus am Checkpoint Charlie) explores the history of the Berlin Wall, including East Germans' many ingenious and often fatal attempts at escape.
Across the street from Checkpoint Charlie is the Asisi Panorama Berlin, a meticulously detailed mural painted on the interior walls of a circular gallery. The 360-degree panorama re-creates everyday life during the Cold War, half of the image depicting West Berlin, half East Berlin, the concrete wall dividing the scenes in two. From a platform that rises 13 feet above the floor, visitors obtain a bird's-eye view that contrasts the wealth and deprivation of the two Berlins of the late 1980s.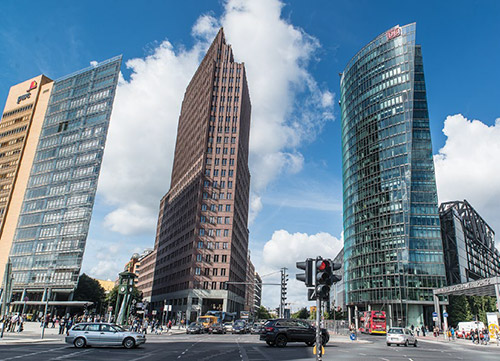 WHERE THE WALL STANDS
Eastern Berlin lays claim to the longest remaining stretch of the Berlin Wall. The neighborhood uses that .8-mile length of wall as an art display: the East Side Gallery.
Painted by 118 artists from 21 nations, the vividly colored East Side Gallery reflects on the 1989 collapse of the wall and Germany's subsequent reunification. World peace and freedom are common artistic themes. Among the more popular images is one of a Trabant bursting through a concrete wall.
Across town, the Berlin Wall Memorial (Gedenkstätte Berliner Mauer) features another expanse of surviving wall, this one decidedly more austere. Left untouched as an homage to darker times, this wall memorial provides as realistic a view of the genuine barrier as you're likely to find in 21st-century Germany. Twelve-foot-high reinforced concrete walls formed merely the first line of defense in a border that also incorporated motion-activated guns, a land mine-riddled "Death Strip," military vehicle patrols, surveillance cameras, guard dogs, a secondary security wall and a manned observation booth, all of which are represented by the memorial.
TASTE OF THE COLD WAR
After a day of Berlin Wall-themed museum-hopping and sightseeing, many visitors intensify their Cold War experience with themed accommodations and dining. Nowhere is that immersion easier than at the Ostel in the former East Berlin. Set in a prefabricated concrete building typical of Cold War-era Germany, spare but authentically designed Ostel rooms are furnished with steel-framed beds, autumn-harvest wallpaper, East German-manufactured radios and numerous portraits of former East German Secretary Erich Honecker.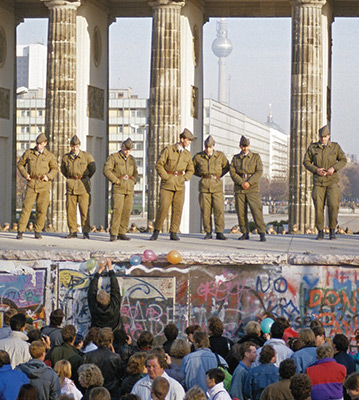 Grander in its architecture and furnishings is the Westin Grand Hotel Berlin, which welcomes guests just as it has since 1987. Opened by Secretary Honecker to show off East Berlin's purported success and prosperity, the hotel was originally accessible only to Westerners who could pay in West German marks or U.S. dollars. Then as now, the hotel impressed visitors with its 100-foot-high glass atrium and grand staircase.
The Volkskammer Restaurant promises a taste of authentic East German foods. Menu offerings include Cold War-era favorites such as Soljanka, a meaty sweet-and-sour Russian soup, and Fake Rabbit (Falscher Hase), which is, in fact, a meatloaf with veggies. All are served up in a restaurant decorated in DDR style.
Although the restaurant at Berlin's iconic Television Tower (Fernsehturm) no longer serves East German cuisine, its architecture clearly reflects the Cold War era. Constructed with the dual goals of broadcasting East German programming as well as projecting East German prowess and efficiency, the tower dates from the 1960s and offers views of Berlin, East and West, old and new, from a rotating restaurant 650 feet above street level. Another dining favorite is the Dachgarten Berlin, a branch of the fine-dining German restaurant Käfer. Perched on the roof of Berlin's Reichstag, the Dachgarten is the world's only public restaurant to be set atop a parliament building.
But it may well be the humble currywurst that best represents the city of Berlin. Invented in 1949, when Germany hadn't yet entirely cleared away its war rubble, currywurst relied on the spices obtained from British occupying forces. Topped with curry ketchup and accompanied with a side of fries, Berlin's currywurst melds pre- and post-war Europe flavors and is likely to remain a city staple long after the Berlin Wall has faded into the annals of history.
CELEBRATING THE FALL
A variety of special museum exhibitions, multimedia displays and concerts will commemorate the much anticipated 30th anniversary of the fall of the Berlin Wall throughout 2019, with highlights planned for the anniversary week in early November.
Berlin's Path to Revolution November 4–10
Seven locations across Berlin will form stops along a Path to Revolution. Each stop will recount the story of Germany's reunification and the collapse of the Iron Curtain across Europe through photographs, films and sound installations.
Festival of Freedom November 9
Berlin unveils the world's largest concert stage and transforms the entire city into a festival celebrating the fall of the Berlin Wall. Festival organizers promise dozens of musicians, orchestras and bands performing works of many musical genres.
Download the free About Berlin app for more travel guidance. The app covers Berlin history from the 1870s to today and includes more than 200 stories, video presentations, maps and themed city tours, including a Berlin Wall Trail, in English.
Read more articles