BIG CEDAR LODGE
BY MATT CROSSMAN
Bass Pro Shops founder's Big Cedar Lodge hooks our writer with more than big fish.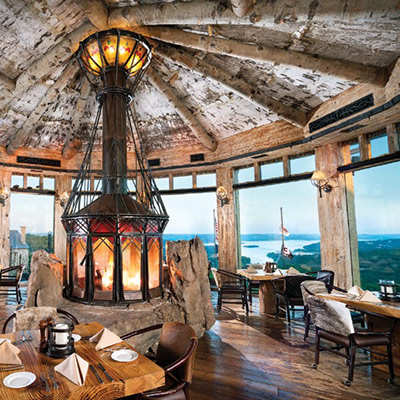 The smell of fresh coffee filled my cabin at Big Cedar Lodge. I poured a cup and stepped outside onto a deck overlooking Table Rock Lake. Mist clouded my view but not my mood. I listened as woodland creatures snapped and crackled in the woods that ran down to the lake as I pondered the fun that awaited me at the 4,600-acre resort eight miles south of Branson, Missouri.
I walked back inside and loaded my bag with everything I needed for off-road driving and fishing. Before heading out, I paused to look around. Thick couch I could disappear into for hours. Walk-in shower I had to talk myself into leaving earlier that morning. Exposed wood that made my cabin feel like an isolated retreat for someone who wanted to have a drink, tell stories deep into the night, and sleep in comfort and style after a long day spent hunting in the woods.
I almost didn't want to go. But there was joy to be had, starting with the omelet bar at Devil's Pool Restaurant. I approached it like my kids after they dump out their Halloween buckets. I called out each ingredient—onions, green peppers, cheese, ham, tomatoes—and finally decided it was easier to say, "everything but mushrooms."
I faced a similar smorgasbord when mapping out my days at Big Cedar Lodge, where options include fishing, spa treatments, shooting, biking, hiking, off-road driving, bowling, swimming, golfing and more.
Reeling 'Em In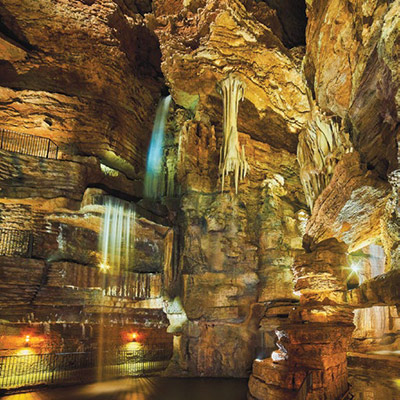 Indian Creek slithered like a translucent snake from my right to my left through Dogwood Canyon Nature Park, a 10,000-acre preserve affiliated with Big Cedar Lodge. With my guide, Jim, at my side, I threw a line in the water and waited for the magic to happen. And waited.
Jim won my unending support by being honest as we watched a trout ignore my bait. He did not conjure a hackneyed excuse about the water's color or its temperature or ask me to jiggle the bait this way or that, as other guides have with me. He simply said he did not know why the fish wouldn't bite, and it drove him crazy.
Jim tied on new bait, and trout swarmed my line as if it were the omelet bar at Devil's Pool Restaurant. The resulting picture—creek behind me, fish in my hands, smile on my face—summed up my visit to Big Cedar Lodge, and that's likely how owner Johnny Morris, famous as founder of Bass Pro Shops, wants it.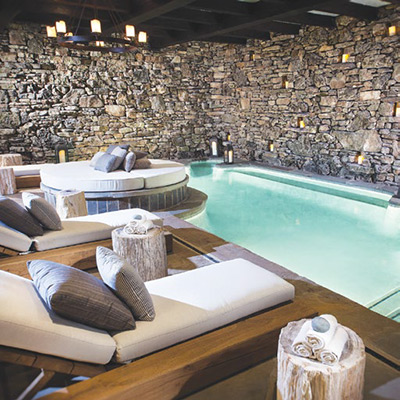 I've never met Morris, but I feel like I have after visiting his properties. Pictures of him hunting and fishing are everywhere and reveal his buoyant personality. He is sometimes called "the Walt Disney of outdoors," and that's a great description. Big Cedar Lodge matches his joie de vivre, reflecting his duality of savvy businessman and joy-chasing outdoorsman.
Relaxing in my 675-square-foot cabin, walking around the grounds, losing myself in the Morris-founded 350,000-square-foot Wonders of Wildlife National Museum and Aquarium in nearby Springfield—with 800 species of wildlife, 35,000 live animals and a 1.5-million-gallon aquarium, it's the world's largest immersive wildlife attraction—I could find no detail overlooked.
But like a judge wearing shorts under his robe, there is more to Morris' properties than meets the eye. Morris is known to take quality, but not himself, seriously. As one sign at the lodge said, "Education is important. Fishing is importanter."
The Catch of the Day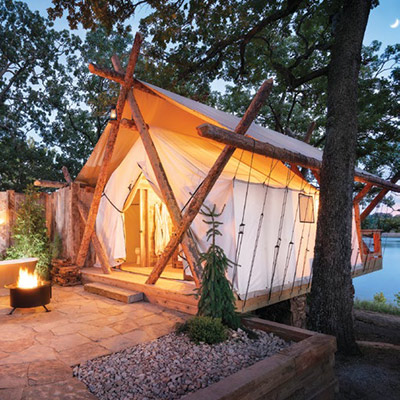 What is now Big Cedar Lodge began as a private retreat in the 1920s and became Devil's Pool Guest Ranch in 1947. Morris bought it in 1987 and renamed it Big Cedar Lodge the next year. He envisioned it as a fishing camp for employees and clients before he came up with more ambitious plans. Today, it is a lakeside resort melding preservation, conservation and family fun.
The lodges, cottages and cabins combine for 260 guest rooms. They reflect three influences: the wood comes from the West (Montana), the cabins are influenced by design from the East (the Adirondacks), and the overall aura draws on local Ozarks history. The golf, in particular, is world-class, with courses designed by PGA legends Tiger Woods, Ben Crenshaw and Jack Nicklaus. Like fishing and golf, off-road driving is a popular attraction in southwestern Missouri, and I spent hours seeing how close I could come to crashing various Toyotas without actually doing so.
I wrapped up a busy day with a cookout at the Bass Pro Shops Shooting Academy. The group I was with wore contented expressions from days well spent. A slight breeze cooled the late spring heat. Our spirits lifted by the size of the steaks (enormous) and the views of the rolling green hills (spectacular), we sipped drinks and poured ourselves into our chairs. We told stories of speeds reached, golf shots hit and fish caught.
Some of them might have even been true.
Read more articles