Shopping Around Europe
BY STACY TILLILIE
Retail therapy is alive and well in these top shopping cities in Europe.
Baseball may be known as America's national pastime, but when it comes to ways Americans like to spend their time, shopping ranks high among preferred leisure pursuits, especially when traveling. In fact, shopping ranks second—behind visiting relatives but before visiting friends—in the list of the top leisure travel activities for U.S. domestic travelers, according to recent surveys by the U.S. Travel Association. And when we travel abroad, we take our penchant for shopping with us, spending billions of dollars every year on purchases that are unique, authentic or symbolic of the places we visit, serving as mementos of our vacation experiences.
While bucket-list shopping trips can be had in both established and emerging markets around the globe, several European cities tick all the boxes for one-of-a-kind shopping in culturally rich settings oozing with style, history and beauty. Following are a few of our favorite destinations to stuff our shopping bags, break out our credit cards and make registers go ka-ching!
London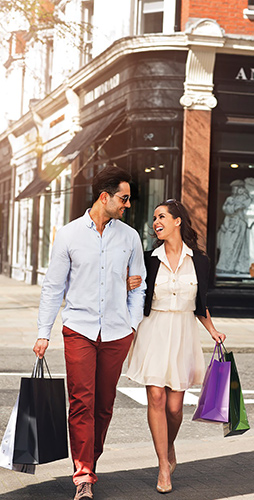 What's in Store in London
You can't list top spots to shop in Europe without talking about England's vibrant capital. World-famous for cutting-edge fashion, London is home to bustling shopping districts, vintage markets and iconic department stores.
Synonymous with superlative shopping in London is Harrods, one of Europe's largest and oldest department stores, founded in 1849. Now housed in a palatial building constructed in 1905 and featuring more than a million square feet of retail space, this landmark in the city's Knightsbridge section is a bona-fide tourist attraction, drawing more than 15 million annual visitors. Among its 330 or so departments, you'l find more than a dozen dining venues, including The Harrods Tea Rooms; a wellness clinic; a lounge offering wealth-management services; a travel bureau; a money-exchange bureau; luxury residential property services; food and wine consultations; custom tailoring; and interior design services. Looking for a classic souvenir? Consider the collectible Harrods Annual Bear stuffed animal. Even if you don't spend a pound at Harrods, it's worth the trip just to browse the elaborate window displays, especially during the Christmas season.
Sharing an address in Knightsbridge is the renowned luxury department store Harvey Nichols. Today's flagship store features eight floors of retail therapy, including a floor dedicated to restaurants. Along with shopping for high-end clothing and accessories, home furnishings, and food and wine, customers can partake of beauty concierge services, a stylist station, a wellness center, a barbershop, a medi-spa, tailoring and alteration services, shoe and handbag restoration, and more.
Travelers can also indulge in superb shopping along Oxford Street, among the city's oldest shopping districts, dating to the 19th century. Here, you'll find more than 300 stores, including the beloved Selfridges department store. Opened in 1909 with more than a half-million square feet of retail space, Selfridges serves up artistic window displays with animated mannequins and innovative art installations, more than a dozen dining venues, and curated shopping services that include exclusive shopping areas with posh suites and dressing rooms as well as a drawing room, bar and library.
Of course, department stores are only part of the merchandise mix. Regent Street in the city's West End boasts a slew of upscale stores (think Tory Burch, Burberry, Coach and Kate Spade) complemented by regal architecture. Whether you're traveling with children or just a kid at heart, be sure to visit Hamleys toy store, which dates to 1760 and brims with imaginative playthings and play spaces throughout seven floors.
Also take a stroll along Bond Street, stomping grounds for the jet set and home to ritzy retailers such as Jimmy Choo, Louis Vuitton and Ralph Lauren, as well as a detour to Savile Row, featuring tailors who provide bespoke tailoring services and the place where the dinner jacket is said to have been invented in 1846.
Milan
Coming Into Fashion in Milan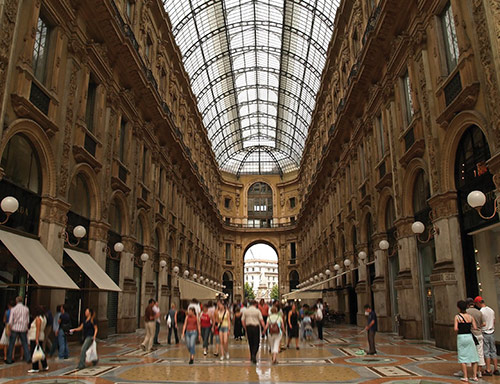 Art and antiques in Rome. Artisanal leather goods in Florence. Handblown glass in Venice. The question for travelers to Italy isn't why to shop but where to start your shopping expedition. For many, Milan, Italy's second-largest city (after Rome), tops the shopping list with a global reputation for haute couture. After all, it was here that such legendary design houses as Dolce & Gabbana and Prada were born and that such celebrated designers as Armani and Versace have flagship stores. Also, the Quadrilatero della Moda is considered the leading fashion district by the who's who of the fashion world, and Milan hosts a biannual Fashion Week that attracts millions of fashionistas for first looks at avant-garde styles.
Exploring the trendy city is like seeing an impromptu fashion show, particularly throughout the well-heeled Via Montenapoleone, the premier street for glitz and glam. Here, peruse strings of stores bearing the names of famous Italian designers, from Fendi to Gucci to Valentino. Be prepared to throw your budget out the window shopping on this tony street, or simply browse the alluring window displays for fashion inspiration to shop later at the city's more affordable markets (yes, they exist). Nearby, the free-admission museum Palazzo Morando Costume Moda Immagine showcases Italian fashion and costume history, too.
Also in the neighborhood, Corso Venezia is home to Italian fashion as well as international brands, and the street leads to another fashion find: centuries-old Corso Buenos Aires, among Italy's busiest and longest shopping streets with more than a half-mile teeming with clothing stores galore, including reasonably priced fashions.
Milan also boasts a massive flagship department store, the 152-year-old La Rinascente, featuring a wealth of fashions, furnishings and more along with a prime location across from the Duomo di Milano—plus spectacular views from store's seventh-floor terrace. And the neighboring Galleria Vittorio Emanuele II, housed in an ornate 1870s building punctuated by a glass ceiling and artwork, also offers panoramic views via its rooftop walkways.
Still have money to spare? Check out the Ferrari Store for the ultimate Italian designer accessory.
Paris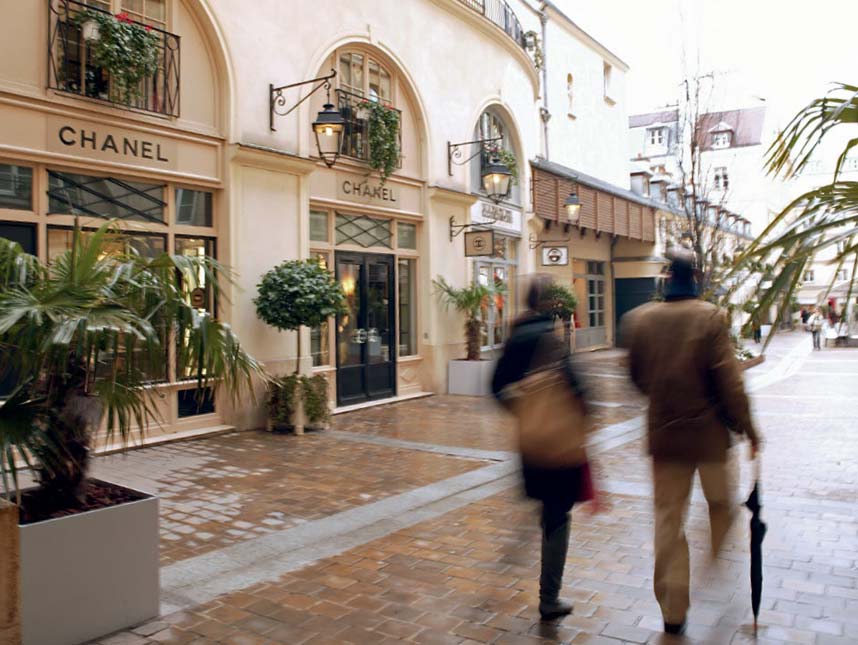 Purchasing Power in Paris
France's romantic capital is also a model for the world's finest clothing, perfumes and jewelry, providing some 17,000 shops, including a profusion of luxury boutiques and flagship stores of such illustrious designers as Chanel, Hermés, Givenchy and Louis Vuitton. Twice a year, the city presents Paris Fashion Week, widely considered the grande dame of fashion week.
To sample some of the best Paris shopping, head to the Triangle d'Or in the 8th arrondissement, ideally tucked across from the Seine and Eiffel Tower. From Porte Maillot to George-V, avenue Montaigne and the rond-point des Champs-Élysées, the Golden Triangle, as it's translated, hosts many of the world's major fashion houses (think Christian Dior, Bulgari and Yves Saint Laurent, just to name a few), with a high concentration of stylish stores around avenue Montaigne. You'll also discover an abundance of international brands—from A (Adidas) to Z (Zara)—along Champs-Élysées. In the heart of the city, boulevard Saint-Germain and its neighboring streets advertise with over-the-top window displays of the grand couturiers to the delight of passersby.
Department stores are far from a dying art in Paris. Le Bon Marché Rive Gauche, opened in 1852 and the city's first of its kind, is famous for its clothing, furnishings and festive window displays during Christmastime. Dating to 1865, the Printemps Paris Haussmann is recognized as a historic monument with more than two dozen floors, including an entire floor devoted to footwear, spread over three buildings housing luxury goods. And the Galeries Lafayette Haussmann, established in 1912, has been compared with a Parisian fashion theater with art installations and free fashion shows for visitors; there's also an expansive space dedicated to souvenirs.
Along with luxury shopping, gastronomic shopping is a Paris must-do. The department stores are famous for their food halls and tasting bars; the Galeries Lafayette, for example, offers specialty food tastings and practical tips in the "art of gastronomy" in its home department, and the 160-year-old BHV Marais, facing the Hotel de Ville and Notre-Dame, has its own gourmet shop. Tucked throughout virtually every nook and cranny of Paris, irresistible cafes, restaurants, ice cream stores and pastry shops beckon.
After all, you'll need to fuel up for marathon shopping, and what could go better with any French fragrance and designer outfit than a colorful assortment of macarons?
Read more articles