MEET OUR TRAVEL CONSULTANTS
Q&A WITH DOMESTIC TRAVEL CONSULTANT FOR AAA CORPORATE TRAVEL, CHRISTINE DOEKER.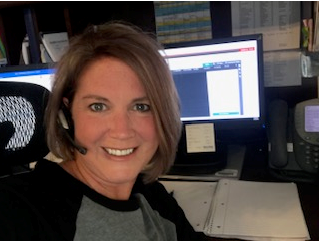 Get to know our travel consultants! When our clients are on the road or in the air, they are always under the care of a AAA consultant. Our consultants are available 24/7/365 so there is never a time when a client is left high and dry.

Our corporate travel consultants are referred to as the "roadside assistance" of business travel, and it's that reliability that drives AAA's reputation for superior service. Meet Christine Doeker, Corporate Travel Consultant for AAA Corporate Travel. A 27 year veteran, Christine is one of nearly 50 consultants we have on staff that serve our corporate travel clients every day.

Q: How long have you been in corporate travel?

A: It will be 27 years in November.

Q: What is your favorite part about your job?

A: My favorite part of this job is making travel easy and painless for our customers.

Q: What do you like most about working for AAA?

A: I love being able to work from home!

Q: Do you have a most memorable client experience you could share?

A: I remember 9/11 very well. It was amazing how the entire world stopped momentarily (including the phones ringing) and then once things settled for a bit the phones started ringing off the hook. Everyone was so patient and kind. The flights were halted, the hotels were sold out and the car rentals were flying off the market. Yet everyone was so understanding. We even had a client from CCHMC that ended up buying a car in Denver because he could not find a rental! Travelers were stuck for days and I don't remember anyone complaining.

Q: Where is the best place you have visited for vacation? What did you like about it?

A: Either Hawaii or last year one of our cruise ports was Tortola. I was not familiar with Tortola but the ocean was absolutely beautiful.

Q: If you could give business travelers one piece of advice, what would it be?

A: Trust your travel agent! If something in your travel plans gets messed up, we will make it right.